Conventions and Conferences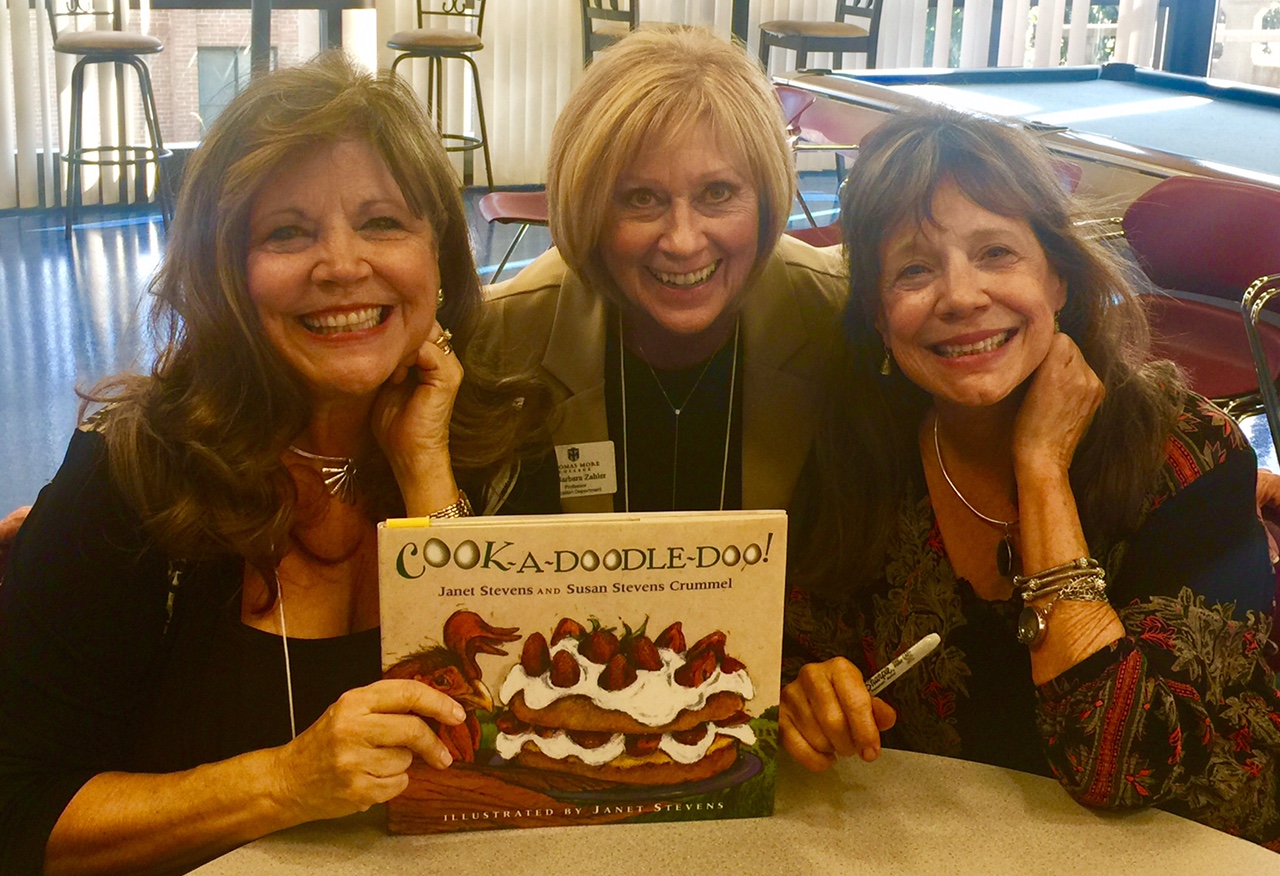 Susan has spoken at numerous local, state, national, and international conferences. She has given keynote addresses, luncheon speeches, and workshop/breakout sessions.
SAMPLE KEYNOTE/LUNCHEON SPEECH
Title: Which Came First, the Pictures or the Words?
Susan Stevens Crummel tells ALL about how she and her sister Janet Stevens create award winning picture books such as Help Me, Mr. Mutt!, The Great Fuzz Frenzy, Cook-a-Doodle-Doo!, And the Dish Ran Away with the Spoon, Jackalope and more.
This "general talk" focuses on:
growing up (include Squirrel Sisters entire animated part)
Janet becoming an illustrator, Susan becoming a teacher then author
how they work together, how they get ideas and other "behind the scenes" tidbits about each book
SAMPLE WORKSHOP/BREAKOUT SESSION 1
Title: Laugh and Learn Using Picture Books in the Classroom!
Dynamic speaker Susan Stevens Crummel shows how to use picture books in the classroom with lots of teacher tips, activities, and projects. She will share ideas on how to use her picture books to teach:
voice
point of view
characterization
plot
setting
language usage—onomatopoeia, alliteration, idioms, etc.
opposites
counting
recognizing patterns
interpret, explore, and construct simple graphs
compare and contrast
making connections
looking for detail
measurement: time, temperature, volume, length
map-reading
sequential thinking
identifying the main idea
using simple directions
animal habitats, behavior, predators, etc.
and many more!
Susan will also give the inside scoop on how she and her sister, illustrator Janet Stevens, work together to create award-winning picture books!
SESSION TIMES
Susan can do 2 different 60 -90-minute sessions—a PART 1 and PART 2 of the above, covering new material in each.
SAMPLE WORKSHOP/BREAKOUT SESSION 2
Title: Getting Kids to Read
Susan Stevens Crummel shares fun and effective ways to get kids reading!
Make it fun
Involve parents!
Have an author visit or virtual author visit!
SUPPLIES NEEDED for all keynotes/workshops/breakout sessions
LOW AV cart (cart only) w/ 3 plug-ins + ext. cord
large screen (to show my power point)
2 display tables (3' x 6' at least)
LOUD lapel/ ear cordless microphone
water to drink
a copy of each book to display
FEES
I have decided NOT to raise my honorarium for the upcoming school year. It will remain for June 2018 through May 2019. Costs for conferences and conventions are $1200 plus expenses (transportation, lodging, meals) for up to 2 sessions.